Welcome to the Rayman Wiki
Due to vandalism, many things are being restricted, admin's apologies! Naturally, viewer discretion is advised.


The
2D Prototype
of Rayman 2 was initially intended to be a 2D game and would expand directly on the aesthetics and gameplay of
Rayman
. This version of the game was intended to be released for the Sega Saturn, Sony Playstation and Personal Computer. A playable level of this prototype is available in Rayman 2:The Great Escape for the Playstation 1.
Rayman 1's storyline was originally going to be set in a virtual world created by a human boy called Jimmy. Jimmy becomes his avatar; Rayman in order to defeat a virus.
Before you make a new article, please make sure it doesn't already exist!
Not sure where to start?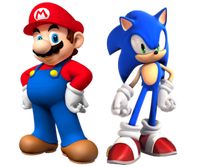 Platformer Games
Go to these sites for info or for help with your own wiki!
A Hat in Time • Azure Striker Gunvolt • Banjo-Kazooie • Bloodstained: Ritual of the Night • Broforce • Castlevania • Cave Story • Code: Hardcore • Conker • Contra • Crash Bandicoot • Croc • Cuphead • Donkey Kong • Drawn to Life • Epic Mickey • Ganbare Goemon • Jak and Daxter • Jazz Jackrabbit • Kirby • LittleBigPlanet • Mario • Mega Man • Metal Slug • Metroid • Oddworld • Ratchet & Clank • Rayman • Shantae (and WayForward games) • Shovel Knight • Sonic • Spyro the Dragon • Strider • Yooka-Laylee
Want your community included? See how!
See all of our Platformer gaming wikis!